We've got a break coming up, biggest one we've had midseason in…I don't know how long. I mean, besides COVID last year, but that wasn't really a break. In preparation for the 2021 Summer Olympics, NBC and NBCSN will be putting NASCAR on hold, and everyone is seemingly ok with that, haha. Buckle in for a New Hampshire race today — our only one of the season and 50th installment — and when we return in August, we'll be at Watkins Glen. Oh, yeahhh.

Here's what to look for:
–Brad Keselowski was our winner last year, but it wasn't his first. He also took the checkers at the 2014 version. Brad will roll off 11th today, though he's been #1 in the news all week. Rumors were circling, now verified, that Keselowski will enter into a partnership with Roush-Fenway racing, now adding "-Keselowski" to their organization's title. He'll be running there next season, too, obviously, and as they say, "Silly Season has begun!"
–Martin Truex Jr. leads all drivers over the last ten Loudon races in terms of points. 0 Wins, but he's been awfully close. Through that range, he's got 7 Top 10s, and has been running at the conclusion of each of them. That is tougher than it sounds.
–Kevin Harvick has three of the last ten Wins here among active drivers, recently going back-to-back on 2018-2019. Seven Top 10s for Truex sounded pretty good, how does eight Top 5s sound? Pretty good, right? That's what Harvick has here! That is a tough streak to keep healthy, let's see if the #4 can finish 5th or better once more.
–Kyle Busch is our only other active multi-time winner here in those last ten races. He's coming off a difficult 2nd place finish to his brother, Kurt, but will start in front of every driver today. Jeff Burton went wire-to-wire in New Hampshire many years ago, leading every single lap; could we see Rowdy do his version today?
–Tyler Reddick finish 10th last year as a rookie, and he's been running pretty strong as of late. Cole Custer, another 2020 rookie, actually finished better, but Reddick has been very strong as of late and is looking like he'll outrun his fellow sophomore. His last six races have been 19th, 18th, 11th, 9th, 8th, 6th respectively. Can he keep that trend, and finish 5th or better? If they're giving out positions based on how the cars look, this is a shoo in!
---
Last year we had some Lobster Rolls, and this year we've got: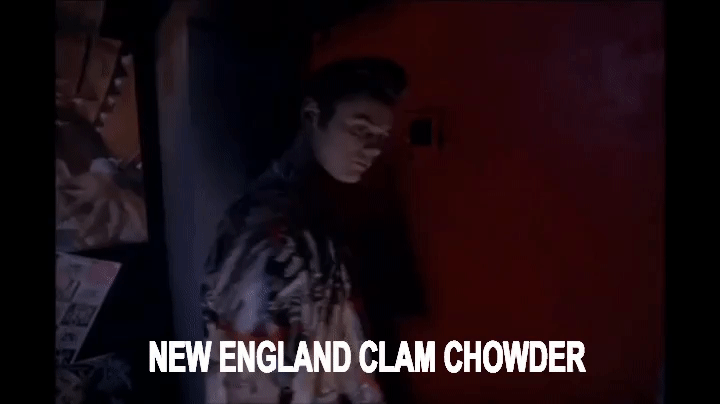 Yes! I don't know why it has taken us so long to get here; this is one of my favorite soups of all time. We've been hitting a lot of soups and stews lately, and as we head into a break, it seems only fitting that we lean on 'ol reliable today. This version is closer to true New England Clam Chowder in that it isn't as creamy I'm used to out of a can (thanks for warming me up on those cold winter nights, Campbell's!), and has way more clams and potatoes than I'm used to in restaurants. Sort of a brand new installment of the stuff for me, and I'd take all three types, yum! So thankful for all of the great new "NASCAR" foods I got to experience in Lisa's Kitchen this year; we did so much in 2020, and we've added so many more in 2021 — and 14 races to go! Great job, Leese! (PS- She also makes great food the other six days of the week, too! I feel bad that you missed out on her 4th of July potato dish!)
Coverage of the race starts on NBCSN at 3:00pm, green flag scheduled for 3:18pm. Rain WAS in the area, but we're all dried out now. Tune in!